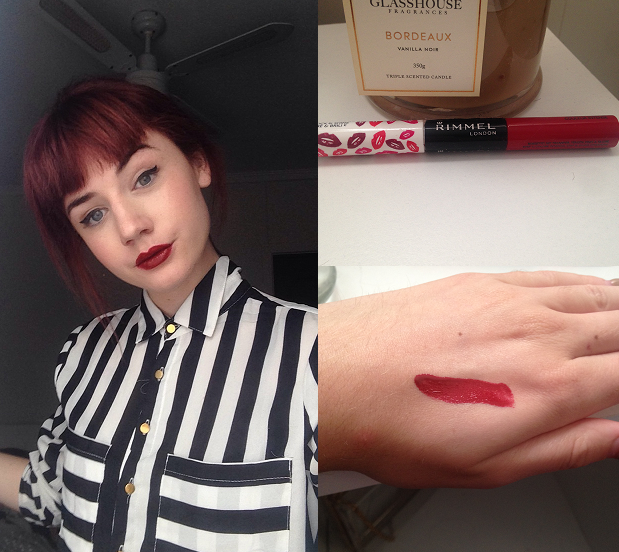 Retails at: $17.95 Priceline Australia
After eyeing them off for a while in the drugstore, I have finally gotten my hands on a Rimmel Provocalips liquid lipstick! I picked up the shade 550 'Play With Fire' which in the tube looks pretty much like a classic red colour with cooler tones. Red lipsticks are probably my favourite shade to wear, so it was pretty typical of me to pick this shade to buy!
Firstly, can we please have a moment of silence for the packaging, the design is super adorable which I admit was one of the draws for me.
Liquid lipsticks can be a real mess to apply, especially if you are new to them, so a good tip is to use a lip liner to outline your lips before you begin (a good lip liner for this shade would be 'Cherry' by MAC.) My finished result can be seen in the photo above, along with a swatch on my hand. It comes with a dofer applicator, much like a gloss.
The Provocalips lipsticks are a two-step process, the first being the colour application and the second step is a 'lock and shine' gloss. Without the second step, the finish of this liquid lipstick is quite matte, however once the second step has been applied, it becomes more of a glossy finish. If you are a more of a matte-finish person, I am sure you would be fine without adding the gloss!
It claims that it can provide 16 hour long wear, which I have not completely tested because I don't think I have ever been in a position of wearing a lipstick for 16 hours long. However, I wore this out to lunch earlier today and it was almost in perfect condition after i finished eating (this is saying a lot since I am not the most elegant eater...).
This lipstick would be a good choice if you were going on a date or having a big night out with friends because in both scenarios it can be a pain to keep having to reapply!
Another point I would like to make is that the colour is super opaque, so one layer has pretty much got you covered. Being a lover of opaque lipsticks myself, this is absolutely amaze-balls.
The only real downsides I have found from using my Rimmel Provocalips is that later on in the day my lips can begin to feel quite dry- which isn't a great feeling. However, the major annoyance I have found comes at removal time, because it literally will not budge! I can put up with this though if it means having my lipstick last long throughout the day.
For the price this is definitely a must-have in your collection if you love liquid lipsticks or want to try them out! Opaque colour and long-lasting wear, you can't go wrong!